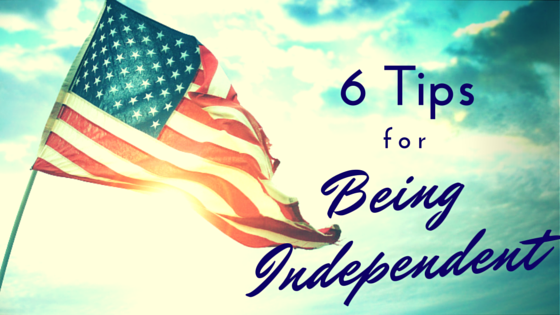 In the spirit of Independence, we've put together 6 Tips for Being Independent to give you the power to take life by the horns and live out your own destiny.
Decide For Yourself. When practicing your independence instead of wondering or asking someone else like a parent or partner what they would do, make that decision yourself. Increase your faith in your own ability to make a great decision that will work best for your life.
Trust Your Gut. Intuition is your best friend. Learn to heed that quiet voice inside you. Decisions based on trusting your gut are sometimes the hardest to make, but also they are incredibly important for establishing your independence.
Express Yourself. When you've made a decision and trusted your gut another key to your independence is expressing your needs to those around you. If you have lived dependent on the opinions of others, this may be tough at first. Don't give up. Each step you take asserting what you need is another step to true independence.
Set Boundaries. This is crucial to achieving independence. Set clear boundaries for yourself and others. Remember, we teach people how we want to be treated. Set clear and firm boundaries, with love, and you will be able to step out from the daily guidance your loved ones have been providing.
Build Your Support Network. Independence doesn't mean going it alone out in the world. Being independent also means asking for help. Sometimes we hit a road block in life and we're uncertain of our next steps. Foster friendships with people you trust and whose opinions you value. Life is full of crossroads, it's important to call upon these trusted few in those moments of crisis and they can help you navigate those obstacles.
Boost Self-Confidence. Putting independence into practice naturally boosts your confidence because you are trusting and believing in yourself. Increased self-confidence helps you stay positive and keep an upbeat outlook on life and your capabilities to face any challenges that come along.