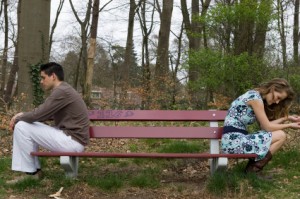 Frustrating relationship?
Unhappy marriage?
Feeling like roommates?
Constant stress?
Frequent fights?
Infidelity issues?
One foot out the door?
Poor communication?
Alone in your marriage?
Why couples therapy?

Couples therapy focuses on pain points and problems that can sometimes exist in a relationship. It is important to understand that these problems almost always involve individual issues as well. The goals of marriage or couples counseling include improved communication, better problem solving skills, enhanced intimacy, and overall satisfaction in the relationship for both partners involved as you should enjoy the relationship you are in.
Is couples counseling just for married couples?
Absolutely not! Couples counseling can help any two people involved in an intimate relationship, whether married or not. This includes pre-marital and same-sex couples.
How can couples counseling help?
During the couples therapy process, our trained and highly skilled therapist will help you and your partner identify conflict areas within the relationship in order to best support you both when deciding what changes may be beneficial for creating a relationship that is as fulfilling and nurturing as it can be.
What if I can't get my partner to see a couples counselor?
Certainly, you can't force your partner to go to counseling if he or she does not want to go. In that case, you may wish to pursue individual counseling to help you decide what actions you can take on your own to create a happier and healthier life.
What issues can marriage therapy help us with?
Couples counseling or marriage therapy can help with these types of issues:
Abuse, whether mental, physical or sexual
ADHD, poor concentration or trouble focusing
Alcohol & drug abuse, addiction and co-dependency
Anger management
Anxiety, excessive worrying or unexplained fears
Career decisions and transitions
Cultural concerns
Dealing with crisis situations
Depression, sadness, hopeless feelings or excessive crying
Divorce, separation and blending families
Domestic violence
Family conflict
Grief and loss
Infidelity and affairs
Illness
Infertility issues or concerns
Lesbian, gay, bisexual, transgender or questioning issues
Life transitions
Parenting concerns
Personal growth
Poor communication and arguments
Relationship concerns
Self-esteem
Sexual and intimacy difficulties
Social isolation or friendship issues
Stress or overwhelm
Suicidal thoughts and tendencies
Trauma
We offer a FREE 20-minute phone consultation
If you feel like your relationship is "stuck" or in trouble, let the experts at TherapyWorks help. We invite you to schedule a complimentary 20-minute phone consultation. Contact us today and begin improving your relationship tomorrow!