Inclusive therapy and counseling for LGBTQ+ individuals in Los Gatos, Santa Cruz, Capitola, and Scotts Valley
Whether you are struggling with mental health issues, your identity, or just need someone to talk to, we believe help should be accessible to everyone. At TherapyWorks we support inclusion, equality and acceptance for everyone by providing a secure, private and safe space for every identity.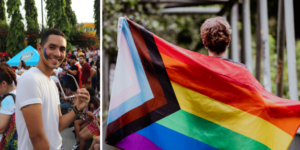 We offer in-person or virtual therapy for the LGBTQ+ community depending on your level of comfort or need to privacy.
Individuals in the LGBTQ community suffer from mental health issues at a disproportionately high. This risk is not because of their sexual orientation or gender identity but rather, members of the LGBTQ community are placed at higher risk because of how they are mistreated and stigmatized in society.
Mental health problems can be both the cause and result of difficulties in LGBTQ-identifying individuals.
We specialize in helping LGBTQ+ individuals with:
Depression
Anxiety + Worries
Stress + Overwhelm
Gender Identity + Expression
Grief + Loss
Trauma
Anger Management
Counseling and therapy for LGBTQ+  individuals is available. If you are looking for support, resources and a therapist you can trust, schedule a session today to meet with a therapist.
With three convenient locations in Los Gatos, Capitola, Santa Cruz, and Scotts Valley, we easily provide in-person and online virtual therapy in our neighboring communities throughout the Bay Area, including Campbell, Saratoga, San Jose, Soquel and Aptos.