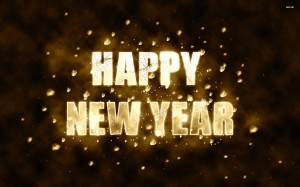 The year is new again! And with that fresh start comes excitement and wonder at the opportunities that open up for us with each new day. New beginnings, new promise, new chances to change those old habits that seem to be holding us down.
Perhaps then, this is why society as a whole is so fascinated with the making of New Year's resolutions. The making and breaking of resolutions is something we are all too familiar with. It seems to me that the real problem lies not within the resolution, but what standards we hold ourselves up to while trying to reach these resolutions.
Actualizing and sustaining change can prove to be challenging for most of us. Here are a few tips for those striving to take the New Year by the horns:
Be Realistic: One of the main reasons resolutions fail is that the goal is simply unattainable within the mental time frame we have set for it. Be reasonable and realistic with yourself. You will find your goal easier to reach when you remember that you are a human having a human experience. There is no perfect way.
Write It Down: Spontaneity is a wonderful character asset but when it comes to maintaining change in your life, the best laid plans are those that come with blueprints and strategy. Set yourself small milestones to help you track your progress and stick to the guidelines you have laid out for yourself. Keep in mind that these blueprints may need to be adjusted and updated as you further in your progress.
Give Yourself a Break: Change is not going to come overnight, no matter how hard you try. As with everything in life change can be a process by which we grow, learn, overcome and bloom.  Mistakes and setbacks are also a part of this process. Don't beat yourself up if you feel like you are back-sliding. Instead let your mistakes empower you to make different choices tomorrow!
Track Your Success: There is nothing more motivating than tracking success. Whether it's pounds dropping off the scale or a growing savings account; success motivates! It may be a pound here, a dollar there, but at the end of each milestone you will be astonished at how one day at a time your goals are coming to fruition!
Put a Lid on Negative Nancy: For many, our internal narrator may not come equipped with a loving, soothing tone; one that might lull a small child to sleep. Instead it may sound similar to a Drill Sergeant barking orders while throwing our mishaps and shortcomings into our faces. It is imperative during times of change that we treat ourselves with love and kindness. Surround yourself with others that are also striving towards a goal. Never underestimate the power of even just a small handful of motivated people!
Reward Yourself: Mark each milestone on your path to success with a reward. Whether it's a mani/pedi, a massage, maybe a nice meal out: you have earned it! Rewards remind us what all the perseverance is about. It also gives us a well needed time out from the routine to sit back and enjoy this journey we are on.
Don't Give Up: Perhaps your road to success has been riddled with difficult setbacks and regression into old behavior patterns, even so DON'T GIVE UP! Keep trying, you need never wait for a New Year's resolution to start a new way of living, thinking, behaving, and existing. Life is happening now. Change begins the moment you make a decision. No matter what the circumstances, keep striving!
As always, we wish the best to you and all your endeavors in the New Year!