Kids can get anxiety just like adults. Whether it is challenges at school, at home, social anxiety, separation anxiety, or generalized anxiety disorder, it is important to know how to support your child and help them cope. One of the best things you can do is to set them up for success. Be sure your child is eating healthy, balanced meals, getting enough sleep, spending time outside , getting exercise, and staying hydrated. While those won't eliminate their anxiety, it will help them better cope with it when it arises.

If you are looking for foods that will help your child reduce symptoms associated with this stress and anxiety, explore the list below.
You can also download our TIPS SHEET or WATCH THIS VIDEO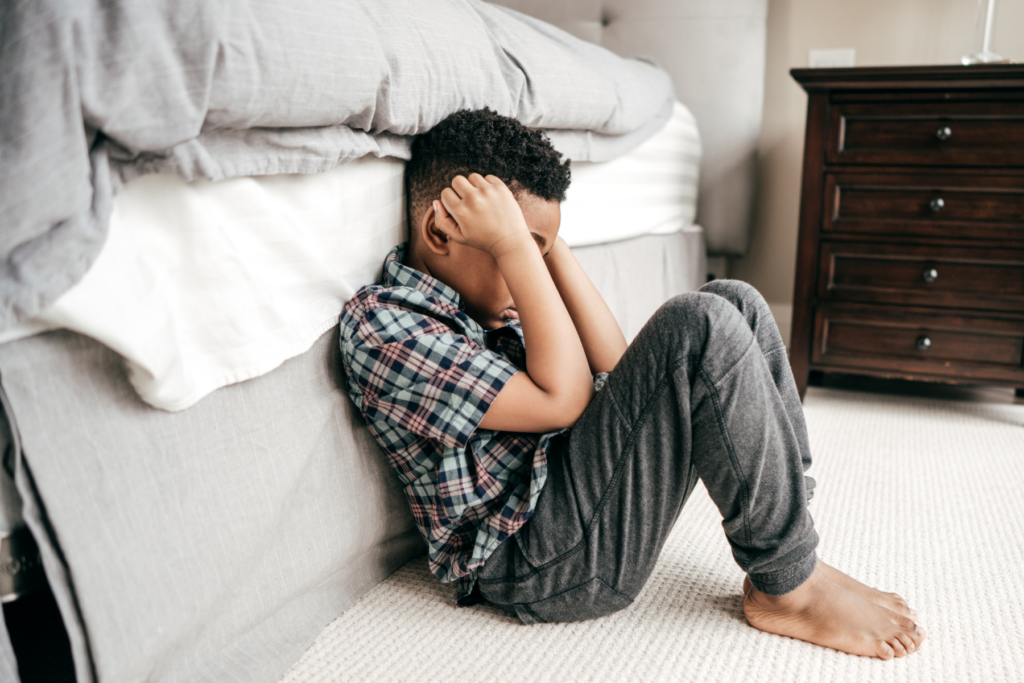 Some foods that may help improve anxiety in kids include.
Yogurt: It is becoming common knowledge that a healthy gut equates to a healthy immune system. It is also being discovered that a healthy gut equates to a healthy mind.
Eggs: A rich source of choline and Vitamin B12, eggs are an optimal food for brain development and may ease feelings of anxiety in children.  If your child is allergic to eggs, other vitamin B rich foods like beef and citrus fruits are also great options.
Turkey: Foods rich in tryptophan, like turkey, have a natural relaxation component and are very effective at reducing anxiety. L-Tryptophan is an essential amino acid the body needs to break down proteins and trigger production of neurotransmitters like serotonin, which plays a significant role in sleep, mood and inflammation. Other great sources of tryptophan are oats and sesame seeds.
Flax seeds: Omega-3 fats are also known to trigger the production of serotonin, which helps ease anxiety.  Flax seeds are a great source of omega-3 fatty acid and can be made kid-friendly by adding to smoothies, breads or muffins.  
Blueberries: Blueberries are rich in phytonutrients, vitamins and antioxidants – all help to decrease stress and anxiety. Add blueberries to smoothies, muffins, or just enjoy them as a healthy snack or dessert. 
Asparagus: Asparagus contains the B vitamin, folic acid. Low folic acid levels can lead to increased anxiety. 
Chickpeas: Chickpeas are packed with stress-fighting vitamins and minerals, including magnesium, potassium, B vitamins, zinc, selenium, manganese, and copper. Roast chickpeas for a tasty snack alternative to chips. 
Water: Did you know that dehydration almost always leads to anxiety?  Because water is crucial to survival, dehydration can cause cells to go into panic mode, which then translates into nervous behavior. Active children often get so busy that they forget to drink water, keep a water bottle on hand at all times and remind your child to drink from it regularly.
Remember that everyone needs a little help sometimes. Whether for yourself, for your child, or for your relationship, there are seasons where it's best to seek outside help. We are here for you. We help people like you.
Whenever you're ready, here are ways we can help:
Schedule an appointment – Schedule Now
Try virtual counseling from home – Learn about telehealth
Text WECARE to 474747 and our Client Care Coordinator will reach out
Get to know our therapists – Meet our team!
Share this with someone – Just send them this link
Let's Chat! Simply reply with an email. One of our team members will personally respond – Email us