Nutrition plays an important role in our mental health. Poor nutrition can negatively impact our mental health, and proper nutrition can actually improve mental health.
Studies have shown that dietary improvement significantly reduces symptoms of depression and improves mood, even in people without diagnosed depressive disorders.
You should look for wholesome foods that have been shown to boost your mood, but also your overall health. Choosing healthy, whole foods instead of sugar and processed foods will in both the short and long run.
Remember that simple changes can make a big difference in improving your mood.
Let's explore what foods help improve your mood. To make these changes more manageable, focus on what you can add to your diet instead of what you should eliminate. Choose a few from this list to implement into your diet. The good news is that many of these foods are probably already in your fridge or pantry. And they are delicious.
You can also download our TIPS SHEET or WATCH THIS VIDEO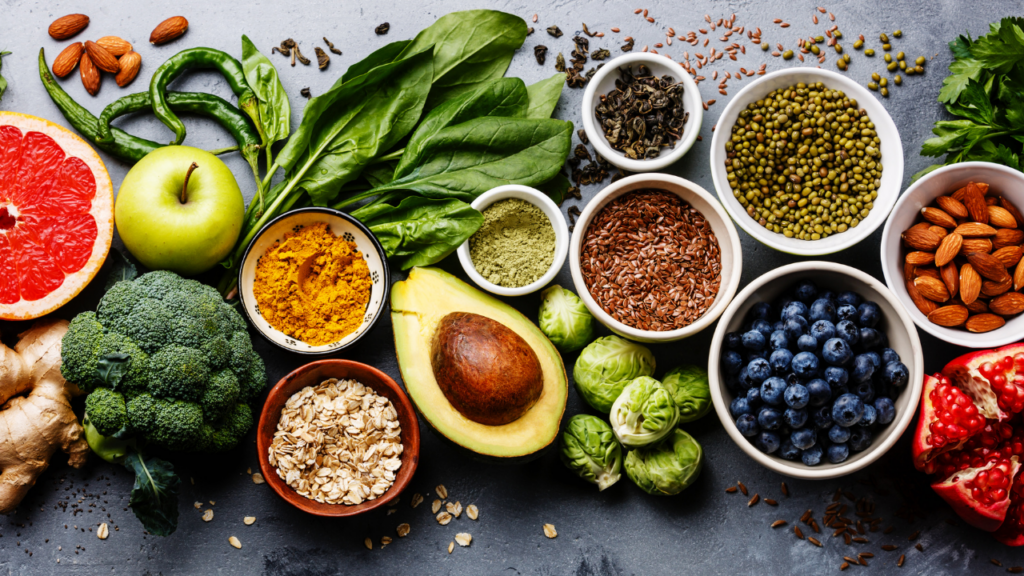 Fatty fish: fish is full of Omega-3s. DHA & EPA are linked to lower levels of depression. Work on adding fatty fish like salmon and albacore to your weekly meal plan. 
Bananas:  Bananas are high in vitamin B6, which helps synthesize feel-good neurotransmitters like dopamine and serotonin. The fiber in bananas also helps slow the release of sugar into the bloodstream, keeping energy and blood sugar stable.  
Dark chocolate: among other elements, chocolate has a high hedonic rating, meaning that its pleasurable taste, texture, and smell may also promote good mood. 
Oats: Oats are high in fiber and iron—two important nutrients for a good mood. Fiber helps slow your digestion of carbs, allowing for a gradual release of sugar into the bloodstream to keep your energy levels stable. Iron deficiency symptoms include fatigue, sluggishness, and mood disorders, meaning more iron rich foods could help alleviate those symptoms and improve your mood. 
Fermented foods: Fermented foods are good for your gut, and promote the growth of healthy bacteria in your gut which may increase serotonin levels.   Research is beginning to show a connection between healthy gut bacteria and lower rates of depression. What are the best fermented foods for your mood? Think yogurt, kombucha, kefir, sauerkraut, kimchi. 
Coffee: The caffeine in coffee increases alertness and attention as well as the release of mood-boosting neurotransmitters, such as dopamine and norepinephrine. Be careful, though, caffeine can also increase anxiety if you have too much.  
Beans: Another choice high in fiber, beans are also an excellent source of B vitamins. B vitamins are known to help improve mood by increasing levels of serotonin and dopamine which are important for regulating mood. 
Nuts: Nuts and seeds are high in healthy fats, proteins and fiber. They also contain tryptophan. Tryptophan doesn't just make us sleepy after Thanksgiving dinner, it is an amino acid responsible for producing mood-boosting serotonin. The best sources? Almonds, cashews, peanuts, and walnuts, as well as pumpkin, sesame, and sunflower seeds.
Berries: the dark purple color in berries comes from anthocyanins. One study associated a diet rich in anthocyanins with a 39% lower risk of depression symptoms (source).
Remember that everyone needs a little help sometimes. Whether for yourself, for your child, or for your relationship, there are seasons where it's best to seek outside help. We are here for you. We help people like you.
Whenever you're ready, here are ways we can help:
Schedule an appointment – Schedule Now
Try virtual counseling from home – Learn about telehealth
Text WECARE to 474747 and our Client Care Coordinator will reach out
Get to know our therapists – Meet our team!
Share this with someone – Just send them this link
Let's Chat! Simply reply with an email. One of our team members will personally respond – Email us