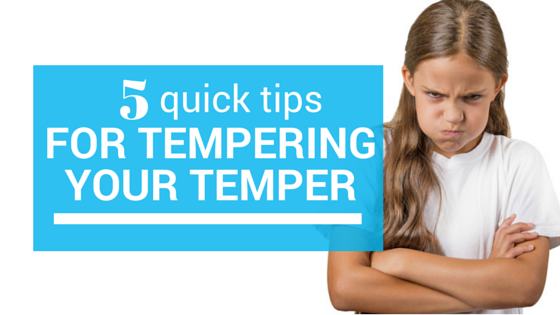 Do you find yourself feeling angry at any little annoyance? Jumping to anger before trying to understand someone else's actions? Can you feel yourself getting angry when your child, spouse, or coworker just won't cooperate? While there is a time and place for anger, if you feel yourself often getting too angry, too quickly, you might want to try some of these tips to help you tame that temper.
Count to ten. If your first reaction is to yell or snap at someone, before saying or doing anything, count to ten. You've heard the advice before—but really, give yourself a moment to calm down and take a breath before reacting.
Explain why you are feeling angry. If another adult or teenager often riles you up to anger, try to let them know why their actions make you angry. Chances are, they don't even understand why you are getting so angry. Do it is a way that is non-confrontational and provides them a forum so that they can explain why they are doing the thing that is causing you so much aggravation.
Take a physical break. If a person or situation is making you angry, the best plan of action is probably to take a moment and get out of that situation. Go for a walk, take a short jog, anything to get rid of some of that pent-up emotion. Doing something active helps to relive stress, and once you've been out in the sun and fresh air for a moment, you may be able to return to the situation with a clear head.
Find your humor. You can actually train yourself to respond with humor instead of anger in many situations. Not only is humor better for your blood pressure, it can help to diffuse a tense situation and turn you into a problem solver, instead of a time bomb. If you feel yourself getting angry, instead, try to find something humorous about the situation.
Know when to ask for professional help. If you just can't seem to quash your temper, you might want to consider talking to a professional. In many circumstances, they may be able to help you come up with a better way of dealing with your anger and even help you to deal with the underlying causes of that emotion.