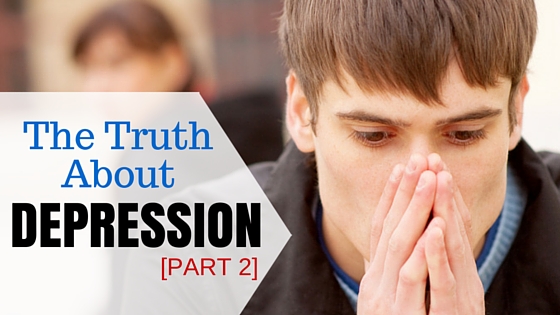 Last week, we kicked off a two-part series on the topic of depression. In part one, we reviewed how to identify depression and when might be an appropriate time to seek help from a qualified mental health professional. In this post we'll be discussing the treatment and prevention of depression.
There are three common ways to treat depression:
Psychotherapy/Counseling: With the guidance and support of a qualified counselor or therapist, clients can use psychotherapy or counseling to explore unhelpful beliefs and negative patterns of thinking, leading to new ways of thinking, feeling and behaving.
Self-Help: This refers to the self-exploration of beliefs and patterns of thinking often through books, home-based practices, online learning forums, etc. Feel free to check out our resource page to learn more.
Medication: Physician-assisted treatment can also be used to treat depression by altering one's brain chemistry using antidepressant medication.
Determining the best treatment for depression should be done on a case-by-case basis. Research has supported the use of medication in conjunction with psychotherapy to be a highly effective means of treatment, however, there are always exceptions. Ultimately, treatment is largely dependent on the causes and symptoms of one's depression and any related issues, such as predisposing risk factors.
Just as treatment is not a one-size-fits-all remedy, the prevention of depression can be personalized too. It's especially important to take preventive action if you are aware that you have predisposing risk factors such as beliefs or values that were learned in childhood. Once you can identify relevant risk factors, you can mitigate the associated risks by:
Learning to manage stress. Learn proven techniques for calming and relaxing yourself.
Learning problem-solving skills. Developing your ability to view problems from many viewpoints and look for a variety of solutions.
Accepting what you can control. Learn to recognize and negotiate what you can control and what you cannot.
Learning self-acceptance. Instead of rejecting the parts of yourself you don't like, learn to manage them more productively.
Becoming aware of your perception. Observe how you generate ideas and opinions, all of which may vary in terms of objectivity.
Focusing on the future, not the past. Learn how to set goals and focus on the future tend to be more positive about life.
Developing a sense of purpose. Learn to make choices that lead to fulfillment, not disappointment.
Strengthening your emotional boundaries. Setting clear, firm boundaries can be empowering, preventing you from feeling victimized and helpless.
Building healthy relationships. Learn to surround yourself with people that are supportive, inviting you to participate in fulfilling relationships with family and friends.
Avoiding isolation. Sharing your experience of depression can be therapeutic, particularly when you're reminded that others have depression and manage it successfully in their daily lives, often with the help of mental health professionals.
At TherapyWorks, our experienced therapists have been trained to work in an integrated fashion, often with a team of service providers such as physicians and specialized treatment professionals, and our research-based, personalized treatment practices help our clients meet the challenge of depression and find effective solutions.
If you or someone you know is struggling with depression, we encourage you to take advantage of a free consultation in our Los Gatos or Santa Cruz locations. Contact us today.