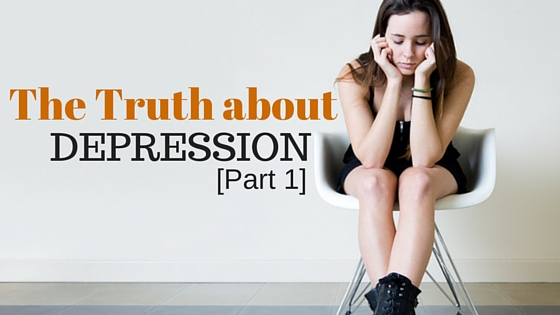 For those who have experienced the effects of depression, you know it's more than just feelings of sadness or a case of "the blues." Although depression can include sadness, it is so much more. Depression can be disabling. Depression can be complicated. Depression can be uncomfortable. Depression can be painful. Depression can impact every aspect of your life.
Although depression is quite common amongst teens and adults, many people are still left in the dark when it comes to the truth behind depression. What it is? Why do some people get depressed? Well, here is what we know…
Depression is the persistent occurrence of some of the following symptoms:
Persistent sad, anxious, or "empty" mood
Feelings of hopelessness, or pessimism
Irritability
Feelings of guilt, worthlessness, or helplessness
Loss of interest or pleasure in hobbies and activities
Decreased energy or fatigue
Moving or talking more slowly
Feeling restless or having trouble sitting still
Difficulty concentrating, remembering, or making decisions
Difficulty sleeping, early-morning awakening, or oversleeping
Appetite and/or weight changes
Thoughts of death or suicide, or suicide attempts
Aches or pains, headaches, cramps, or digestive problems without a clear physical cause and/or that do not ease even with treatment
In addition to the above noted symtoms, we have come to learn that depression has a variety of causes. It doesn't seem to be related to ethnicity, education, income, or marital status, but it has been most commonly related to a chemical imbalance in the brain. The following risk factors may increase your risk of depression:
Personal or family history of depression
Major life changes, trauma, or stress
Certain physical illnesses and medications
In Part 2 of this blog post, we'll begin to explore the treatment and prevention of depression, because the good news is that even severe cases can be treated. The earlier that treatment begins, the more effective it can be. Therefore, it's important to recognize when it's time to seek help from a doctor or therapist, particularly if you or a loved one is struggling with:
Thoughts about death or suicide
Symptoms of depression continue for a long time
Your ability to function is impaired by your depression
You have become severely isolated
Depressive symptoms have become severe
At TherapyWorks, our experienced therapists help clients to reclaim a sense of joy in their lives through using research-based practices and a personalized touch. We take great care to ensure that you are supported by a professional counselor and a responsive service team, offering convenient scheduling options, evening and weekend appointments, and contemporary privacy practices.
We encourage you to take advantage of a free consultation in either our Los Gatos or Santa Cruz Counseling Center. Contact us  today, and we'll assist you promptly.