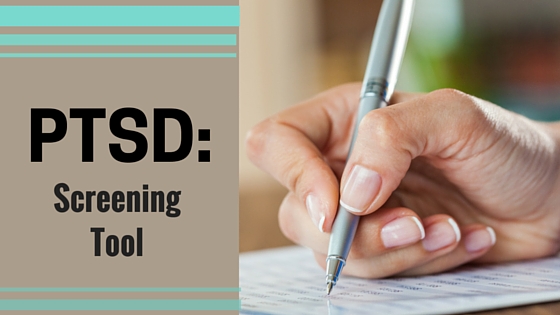 In this third installment of our series on Posttraumatic stress disorder (PTSD), we're providing you with a brief questionnaire that may help in the screening process for PTSD. As a reminder, everybody responds to trauma differently, despite the possible risk factors, so it's always best to seek help from a mental health professional, such as a therapist or a counselor, if you have any questions or concerns.
If PTSD is a concern, where do I begin?
Consider taking the following questionnaire that has been created by the National Center for PTSD:
Sometimes things happen to people that are unusually or especially frightening, horrible, or traumatic. For example, a serious accident or fire, a physical or sexual assault or abuse, an earthquake or flood, a war, seeing someone be killed or seriously injured, or having a loved one die through homicide or suicide.
Have you ever experienced this kind of event?
Yes, or,
No
If yes, please answer the questions below. In the past month, have you:
Had nightmares about the event(s) or thought about the event(s) when you didn't want to?
Tried hard not to think about the event(s) or went out of your way to avoid situations that reminded you of the event(s)?
Been constantly on guard, watchful, or easily startled?
Felt numb or detached from people, activities, or your surroundings?
Felt guilty or unable to stop blaming yourself or others for the event(s) or any problems the event(s) may have caused?
If you answered "yes" to 3 or more of these questions, talk to a mental health care provider to learn more about PTSD and PTSD treatment.
Answering "yes" to 3 or more questions does not mean you have PTSD. Only a mental health care provider can tell you for sure.
What if the screening tool says I don't have PTSD?
You may still want to talk to a mental health care provider. If thoughts and feelings from the trauma are bothering you, treatment can help — whether or not you have PTSD.
Therapy services < https://mytherapyworks.com/adult > can be helpful as you begin to address past trauma. At TherapyWorks, our experienced therapists can help you implement relevant and effective solutions that you're looking for.
And because convenience is important, our professional and responsive support team offers convenient scheduling options, evening and weekend appointments, and contemporary privacy practices.
We encourage you to take advantage of a free consultation in our Los Gatos or Santa Cruz locations. Contact us today and we'll help you.