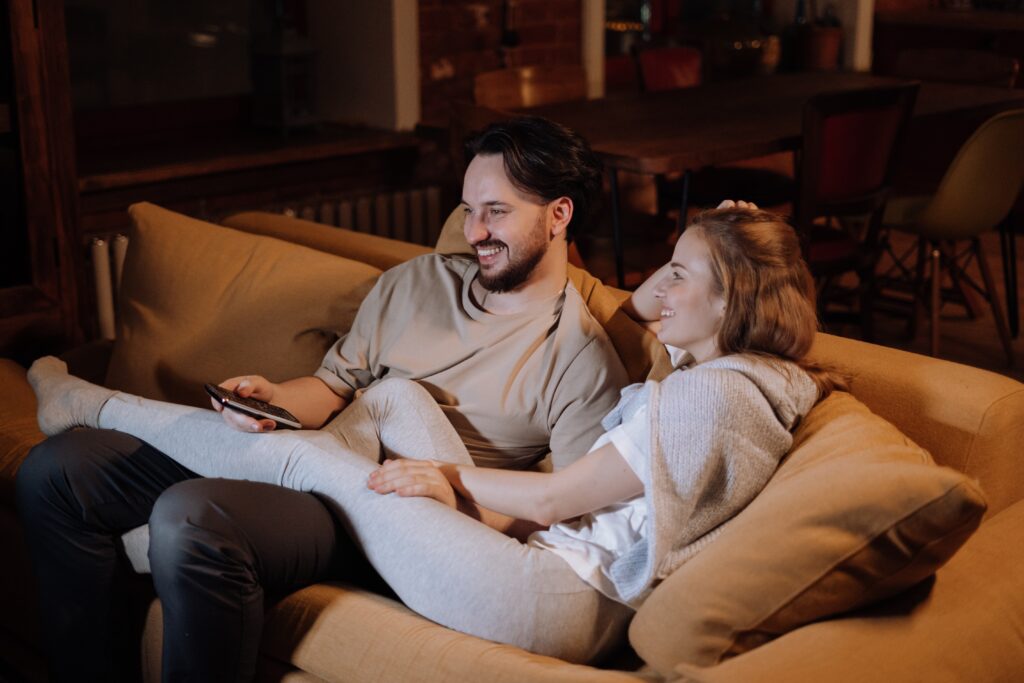 Being stuck inside with a partner day-in, day-out, potentially working from home simultaneously, opposite each other, could potentially put a dampener on the flames of romance. Couples have to put in effort to stay connected, keep things interesting and exciting.
Physical touch – Physical touch is important in any relationship. When possible, keep the human connection. Hold hands, hug. Just the physical act of a kind and warm touch lowers one's blood pressure and releases the "love hormone," oxytocin. And it goes both ways, those that give hugs for example, also have a similar physiological reaction. Touching is also a key factor to a lasting relationship. Don't neglect physical touch just because you are around each other so much.
Give love– Do for others. Giving to others can help protect your mental and physical health. It can reduce stress, combat depression, keep you mentally stimulated, and provide a sense of purpose. Choose a cause that matters to you as a couple. Or choose a neighbor, friend or someone in your community you can help from a distance. Have food delivered to a neighbor, mow your neighbor's lawn, deliver baked goods to a friend or family member.
Plan a Date – With the traditional tools for maintaining a healthy relationship being limited because of social distancing, one way to maintain the relationship spark is by creating your own date nights without even leaving the house. An at-home 'Date Night' can be a great way to create a special moment together. Here are some ideas:Make a special breakfast. Dates don't just have to be at night. Make the most of slower mornings without the rush of getting out of the door to get to school and work.

Plan a "cook-off" from pantry ingredients. Get creative, laugh and bring out your competitive side.
Play a board game
Work on a puzzle together
Plan and at-home spa night
Get dressed up, order in from your favorite restaurant and have a fancy date night at home
Give space – This may sound counterintuitive to give space to create connection, but it's important to take time off and give each other a break. When we think about how to keep the romance alive it's easy to assume it's all about spending a lot of time together. But that's actually the killer of romance, and the killer of attraction. Schedule some 'me' time for each person in the relationship. Talk to your partner about your 'me' time needs, including frequency, duration, and mode of getting that time. Be honest and open about these needs and frame it around your needs versus trying to get away from your partner.
Unplug – Turn off the TV, put down your phones in order to better connect with each other. Strategically plan "device-free time" with each other. Planning parts of each weekend in which all devices will be off-limits can help break the need to be online, 24/7.
Get playful – Engage in shared hobbies or interests or try a new activity or hobby.
Be intentional – Make a plan, make it important and make an effort to spend quality time with each other.
Communicate – Good communication is an important part of all relationships and is an essential part of any healthy partnership. All relationships have ups and downs, but a healthy communication style can make it easier to deal with conflict and build a stronger and healthier partnership. Especially during this time, it is important to continue to communicate with each other. The monotony of quarantine can leave you feeling like you have nothing new to talk about. Try looking up some fun questions to ask each other to get creative in what you talk about.
Clarify Expectations– Negotiating household responsibilities can create clarity and will prevent potential conflict. Rather than expecting your partner to read your mind, don't be afraid to talk more directly about what you specifically need from them. If you have realistic expectations and you're clear about what you do need, then you won't have a problem with resentment.
Fight right– Disagreements and conflict are a normal part of any relationship. The key is to communicate and fight fair. No shaming, no name calling.
Whenever you're ready, here are ways we can help:
Schedule an appointment – Schedule Now
Try virtual counseling from home – Learn about telehealth
Text WECARE to 474747 and our Client Care Coordinator will reach out
Get to know our therapists – Meet our team!
Share this with someone – Just send them this link
Let's Chat! Simply reply with an email. One of our team members will personally respond – Email us