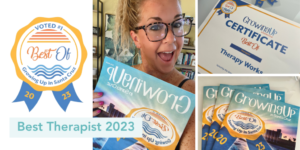 As a company that cares, we want to thank you for your votes in the 2023 Best Of awards hosted by Growing Up Santa Cruz. We are honored to be have been voted Best Therapist in this year's edition.
What we love Growing Up in Santa Cruz is that it is a community centered newspaper that supports families in Santa Cruz County in their endeavor to raise healthy and happy children. Like Growing Up Santa Cruz, our mission is to serve as a resource for our community. I would like to send a special shout-out to all of our clients and of course our TherapyWorks team, which consists of some of the most professional and compassionate therapists around. We are grateful to be part of such a wonderful community full of talented and dedicated businesses.
Congratulations to all the winners! You can explore the full list of winners on the Growing Up Santa Cruz website, or pick up a copy of the magazine around town.
At TherapyWorks, we're on a mission to help people when it matters most, so you can make sense of what's going on, create meaningful change, and get real results – because when you feel better, you live better.
FROM ALL OF US AT THERAPYWORKS—thank you for the votes, Santa Cruz!
If you are looking for a therapist, let's do this, together.  Don't hesitate to reach out:
• Visit mytherapyworks.com/schedule
• Call us at 408-508-6789 or 831-525-5000
• Email hello@mytherapyworks.com