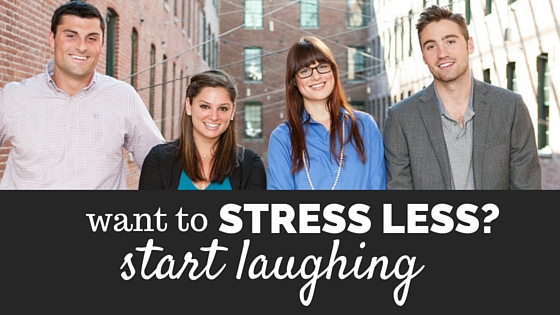 You've heard it before: laughter is the best medicine. Well, you now have permission to laugh all month long, because April is National Humor Month. This week, we'll take a look at why laughter can enhance your wellbeing and how you can begin to stress less while getting your giggle on.
Laughter can be a powerful remedy, helping to restore your physical health and easing any impact to your immune system, including diminishing your pain, boosting your energy and focus, and protecting you from the damaging effects of stress. Here's how doctors believe this dependable antidote works in the body:
Laughter relaxes the whole body. A good, hearty laugh relieves physical tension and stress, leaving your muscles relaxed for up to 45 minutes.

Laughter boosts the immune system. Laughter decreases stress hormones and increases immune cells and infection-fighting antibodies, improving your resistance to disease.

Laughter triggers the release of endorphins, the body's natural feel-good chemicals. Endorphins promote an overall sense of well-being and can even temporarily relieve pain.

Laughter protects the heart. Laughter improves the function of blood vessels and increases blood flow, which can help protect you against a heart attack and other cardiovascular problems.
Laughter can benefit your emotional health too. Very often, your laughter provides a respite from distressing emotions and helps to you to widen your perspective, allowing you to embrace new possibilities and helping you to:
Add joy and zest to your life
Ease your anxiety and fear
Relieve your stress
Improve your mood
And enhance your resiliency
Most importantly, laughter is infectious. In fact, we rarely do it alone. Therapists and counselors  suggest that when you laugh with someone else, you:
Strengthen your relationships
Attract others to you
Enhance teamwork
Help to defuse conflict
And promote group bonding
Ready to chalk up more chuckles? Try these today:
Smile. Smiling is the beginning of laughter. Pioneers in "laugh therapy" find that it's possible to laugh after merely smiling. So, when you look at someone or see something even mildly pleasing, practice smiling. Laughter may follow.
Count your blessings. Literally, make a list. The simple act of considering the good things in your life will helpt to provide distance between you and negative thoughts that can be a barrier to laughter.
When you hear laughter, move toward it. Sometimes laughter is private or a shared joke within a small group, but this is rare. More often, people are very happy to share something funny, because it gives them an opportunity to laugh again. When you hear laughter, seek it out and ask, "What's funny?"
Spend time with fun, playful people. These are people who laugh easily–both at themselves and at life's absurdities–and they routinely find the humor in everyday events. Their playful point of views and laughter are contagious.
Bring humor into conversations. Ask people, "What's the funniest thing that happened to you today? This week? In your life?"
Ask for help. Because it's not always easy, and you don't have to do it alone.
If you need help getting your giggle on, our expert team of therapists offer convenient scheduling options, evening and weekend appointments, and contemporary therapeutic practices.
We encourage you to take advantage of a free consultation in our Los Gatos or Santa Cruz locations. Contact us today, and we'll happily assist you.