Father's Day is this Sunday and we at TherapyWorks want to wish all the father's in our lives a wonderful Father's Day!  We are thankful for our amazing Dads and the Dad's of our children.
This short story about the origins of Team Hoyt is a an awe inspiring example of just how far a father will go to make his child's dream come true.  Go Team Hoyt!!!
After Rick Hoyt sustained severe brain damage during birth and was diagnosed with cerebral palsy, doctors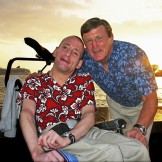 recommended the family give up any hope of him living a normal life; institutionalization was the only way. But the Hoyts paid no mind, and raised Rick like any other normal kid. Though he was restricted to a wheelchair, couldn't speak, or use his arms and legs, the boy camped, swam, skied, and attended public school — eventually going on to graduate from Boston University. Fifty-one years after that grim diagnosis, Rick not only lives in his own apartment but is also a celebrated athlete. How you might ask? With the help of his father, Dick. When Rick was in middle school, he wanted to enter a charity race to raise funds for a recently paralyzed fellow student. His father, who had never run before, offered to push him in a clunky chair. That arduous race led to a lifetime of team racing (not to mention better chairs). Using a specially engineered chair, Dick and Rick have finished more than 1,090 races, including 252 triathlons, 70 marathons, and 94 half marathons. In honor of their 31st Boston Marathon this past April, the father-son duo was honored with a bronze statue in their likeness.