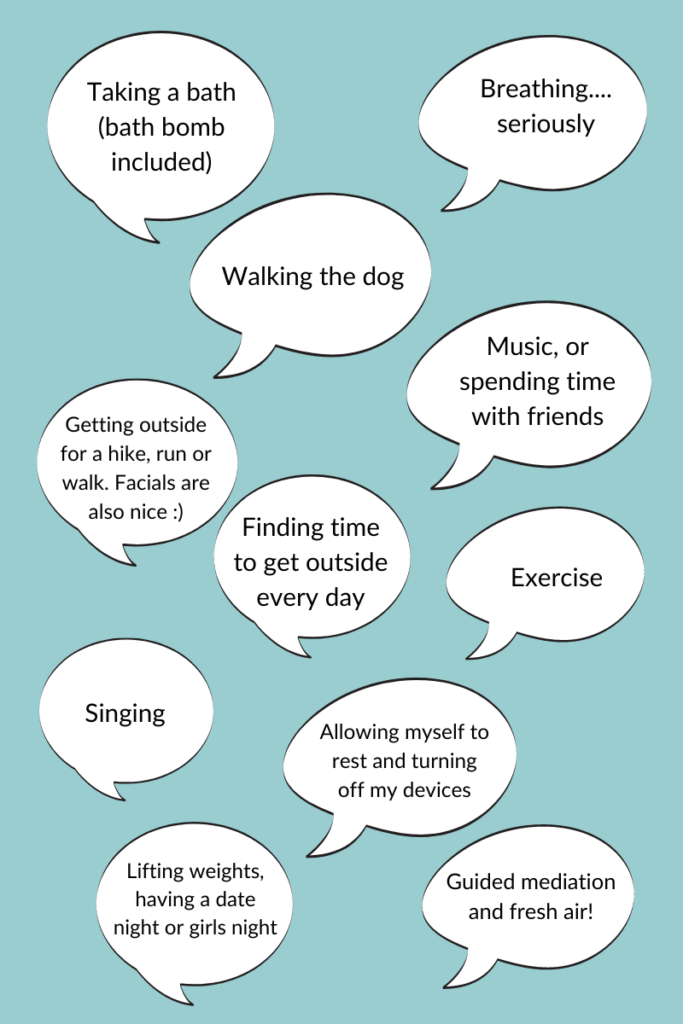 Stress is something everyone deals with—even therapists. With that in mind, we asked our therapists and staff about their favorite ways to reduce stress. Here's what they said.
Ashley Youngblood, LMFT, Clinical Supervisor— Breathing….seriously
Sheena Rogers, AMFT —Taking a bath (bath bomb included)

Ashley Basanese, AMFT —Walking the dog

Gloria Saldana, AMFT—Music, or spending time with friends
Michelle Arzaga Kooy, Client Care Coordinator—Singing
Yamile Bowan, Community Relations Coordinator—Getting outside for a hike, run or walk. Facials are also nice 🙂
Macy Chapman, LMFT —Exercise
Sara Miller, LMFT, Clinical Director —Finding time to get outside every day
Lisa Haney, AMFT —Allowing myself to rest and turning off my devices
Elisa Dakiwag, LMFT —Lifting weights, having a date night or girls night
Kristen Stuhlmueller, AMFT—Guided mediation and fresh air!
How do you find ways to relax, unwind and destress?
P.S. We put together a Spotify playlist of our favorite uplifting and destressing songs. You can find the playlist here.