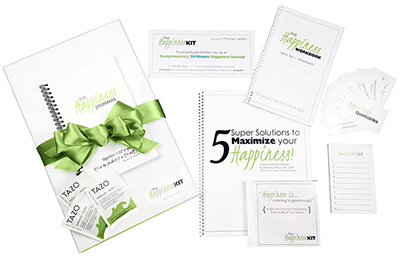 "Whatever you decide to do, make sure it makes you

Happy"

– Maaliea Wilbur
Start Your Journey to

Maximizing Your Happiness


Today!

If you believe that . . .

Happiness is the ultimate purpose in life

Happiness is achievable for all of us

Happiness is determined more by our mind then by our circumstances

The disciplines that will lead us to and enhance Happiness can be learned and mastered with practice

….then you're going to love The Happiness Kit!

Take your first step to maximizing your happiness by purchasing the Happiness Kit today!
Your new Happiness Kit includes:
5 Super Solutions to Maximize Your Happiness, Special Edition Book with special offers
The Happiness Journal
The Happiness Workbook:  Hints, Tips & Worksheets
The Gratitude List Notepad
A Set of our Happiness Quotables
Tazo Refresh-Mint Tea
Relaxation CD
On Sale Now $49.99 (Reg. 59.99)
Delivery & Shipping Options Available