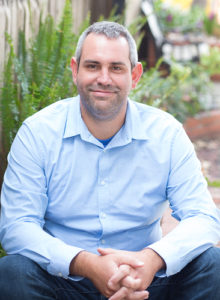 Evan's approach is based on aliveness, genuine connection, and the welcoming of all the parts of ourselves. He develops a sense of collaborative trust with his clients as they work together to discover the unique shape that their therapy needs to take. As an outsider looking in on another's situation, he strives to see situations clearly, especially looking for the positive resources that, although perhaps hidden or overlooked, are already present in a person, couple or family. He then strives to bring that resourcefulness forward to help clients restore well-being, dynamic balance, and personal freedom. In addition to his years of experience in psychotherapy, Evan spent 12 years as a nature-based and arts-based empowerment educator and author, building a diverse and unique skill-set to help clients create positive change.
As a jazz musician Evan approaches therapy as he does jazz: serious study and practice combines with in-the-moment presence, listening and interaction with each client to bring about unique experiences, utilizing various therapeutic theories and techniques as appropriate. Sometimes he and his clients find it appropriate to leave the indoor therapy room and take sessions outside, to nearby natural areas or parks. Ultimately, Evan aims to help his clients not merely stabilize their presenting issues but to become vibrantly alive, with a knowing and living of who they are, their unique purpose and personal gifts, and how they fit into the larger picture of their community and world.
Qualifications & Education
Associate Marriage and Family Therapist #95199
Associate Professional Clinical Counselor #3264
Supervised by Maaliea Wilbur, MFT #50997
Masters of Arts in Counseling Psychology, Pacifica Graduate Institute
Bachelor of Arts in Environmental Studies, Prescott College
Clinical Experience
Associate Marriage & Family Therapist at TherapyWorks (2018-present)
Associate Marriage & Family Therapist at Shine A Light Counseling Center of Santa Cruz (2016-2018).
Marriage and Family Therapist Trainee for Communities in Schools of New Orleans, LA (2015-2016)
Marriage and Family Therapist Trainee for Samaritan Counseling Center of Athens, GA (2014-2015)
Areas of Specialization & Advanced Training
Trauma and Abuse Healing and Recovery
Adolescent Issues and Transitioning to Adulthood
Couples Therapy
Family Therapy
Depth Psychology, Mythology, and Existential Psychotherapy
Internal Family Systems Therapy
Anti-Oppression and Multi-Cultural Therapy
Nature-Based Therapy (Ecotherapy)
Men's Issues
Somatic Therapies
Improvisational Therapy
Positive Psychology
Spiritual Questioning
Associations and Memberships
California Association of Marriage and Family Therapists (CAMFT).
Other
Author, Coyote's Guide to Connecting With Nature
Founder and Former Director, Institute for Wild Intelligence of Athens, GA
Former Wilderness Survival and Nature Connection Educator
Former Lead Facilitator of Arts-Based Empowerment Camps for Teens
On a Personal Note
Evan enjoys playing guitar and singing with friends, cooking and feasting with friends, surfing, dancing, hot yoga, exercising outside, camping, traveling, reading, learning, and experiencing more and more of life's infinite amazingness.