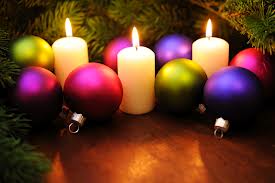 What is it about the holiday season that seems to bring out the best and sometimes worst in people? Most of it can be attributed I believe, to the feeling that we need to "perform" during these occasions.
The pressure to have the table setting just so, just the right amount of holly spread over the fireplace mantel, or that perfect amount of mistletoe strung with "careless abandon". Or perhaps it can be that during this season our family isn't known for sipping hot cocoa, nibbling on sugar cookies, trimming the tree as Bing Crosby softly croons in the background. Perhaps the holidays are usually marred with family dysfunction, arguments, and rivalry.
It is during this time of the year that many 12-Step Programs see an increase in meeting attendance with people struggling to find some semblance of balance and normalcy in a holiday season that feels anything but. In her article titled "Addiction and the Holidays" Danielle B. Grossman, MFT discusses this very phenomenon and its stresses, unrealistic expectations, and the hope that with a little self-examination we may be able to break free from these habits and addictions, and truly embrace this time of year for what it is: a season of giving, forgiving, and fresh starts.
Addiction and the Holidays
By Danielle B. Grossman, MFT

Ah, the holidays: Candy canes, cozy slippers, festive lights, family peace, marital joy, and grateful children.
Or not.
The holidays are stressful. There are the challenges of too much family, not enough family, not enough money, continual exposure to food and alcohol, and perhaps worst of all, the gap between our actual life and our fantasy life. As if gazing into the perfect happy scene within a snowglobe, we might fall into a trance of how our life should be.
We might feel torn apart by nostalgia and grief over the good times and good people of the past, and wracked with guilt and inadequacy for failing to create a more wonderful life for ourselves. We might feel scared about our dissatisfaction and hypnotized by the promise of fulfillment just beyond the hard glass.
Addictive and codependent behaviors thrive during this season of fantasy.  We use our drugs and habits to escape the pain, while imagining how we will miraculously make changes, always tomorrow, or next week, or next year. We frantically try to keep our idea of the all-good holiday alive through our codependent behaviors, imagining that we have the power to make sure that everyone else is happy and no one gets upset, while suppressing our own feelings of anger and disappointment.
So what should we do about our addictive or codependent behaviors during the holidays? Should we just give up and wait until January 1? Or is there hope for progress now?
One option involves using the holiday season to take an honest and compassionate look at our current behaviors. Instead of using up all of our mental energy imagining how our life used to be better, or how our life should be different, or how we need to change, we can turn our minds and eyes toward simply observing present reality.
We can watch our relationships with alcohol, marijuana, cigarettes, chewing tobacco, prescription and non-prescription drugs, gambling, pornography, video games, television or Internet videos, social media, food, exercise, work, and shopping. We can ask ourselves: How much are we using? How much of our time does it consume? How much money are we spending on our habits? How long have we been using? Is it increasing, decreasing, or remaining constant?
We can watch our relationships with our loved ones. We can ask ourselves: How much of our energy is being devoted to worrying about or trying to control other people's addictive behaviors? How much are we being controlled by fear of others' reactions to our boundaries or limits?
Then we can ask ourselves: why are we doing this? What purpose does it serve? What immediate rewards do we attain? In what ways are our behaviors fulfilling our needs? Are there feelings of shame, anger, sadness, loneliness, anxiety, or depression tangled up in our habits? How do these feelings lead to our behaviors? How do these feelings result from our behaviors?
How are our habits affecting our physical health? How are our behaviors affecting our relationships with others? How are our drugs, habits, or relationship patterns affecting our work life? What are the short- and long-term benefits and costs?
As we watch and explore our behaviors in an open and neutral manner, we set the stage for our growth toward increased health. We emerge into the New Year with information about ourselves that we need in order to develop a plan of action, if we so choose, toward change. And by being more honest with ourselves and more present in the life we currently are living, we have broken the paralyzing spell of fantasy: We have begun moving toward a better life.
Credit to: Danielle B. Grossman, MFT   PsychCentral  www.psychcentral.com