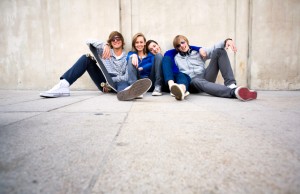 When it comes to parenting style and technique, like most parents, we are continually updating and re-strategizing. Constantly on the look-out for a middle ground; where cause and effect consequences are patiently doled out with love and logic, insuring a feeling of mutual respect between child and parent.
Any parent's dream! But when it comes to teenage drinking is there a halfway point? A middle of the road approach?
In her article titled: "Why Teens, Parents, and Alcohol Don't Mix", Elizabeth Donovan, MA expands on why "teaching" your child to drink responsibly is a fallacy that may have long term detrimental effects not only on your child but on the family dynamic.
With prom, graduation, and a myriad of end-of-the-school year celebrations fast approaching, we have included some excerpts from this hard hitting and poignant article below:
Shattering the Myth of Responsible Drinking:
According to a new study in the Journal of Studies on Alcohol and Drugs researchers found that parental supervision of alcohol consumption has no effect on a teenagers ability to drink responsibly. Even more startling, allowing your teen to drink at home can actually cause them to drink more.
Teaching responsible drinking can minimize the danger of alcohol which ultimately leads teens to drink higher quantities of alcohol as they get older. In addition, these teens have more alcohol-related problems as they mature, including the most dangerous type of alcohol consumption, binge drinking.
For many parents teaching responsible drinking at home means an occasional beer every once in a while with their teen, but unfortunately it usually doesn't stop there–especially if there is a family history of alcohol and/or drug
addiction
. It's easy for parents to get lulled into a false sense of security knowing that your teenager is drinking at the kitchen table instead of at an unsupervised high school party.
However, the reality that teens can still get into serious trouble while drinking with mom and dad is self-evident. Let's not forget the many cases nationwide where teens have been harmed, sexually assaulted, or have died as a result of parents attempts to teach responsible drinking. In some of these cases parents sponsored parties for their teens or simply went upstairs to watch TV leaving them to "drink responsibly" with their friends.
While I believe that most parents have their child's best interest at heart, adding alcohol to your parenting style is something that just doesn't mix. It's time for parents to stop being their teens supplier.
Need More Convincing?
A 2010 study found that while parents can't directly control whether or not their teen chooses to drink, their parenting style can. Parents who hold their teens accountable and have a warm, loving relationship with them are less likely to have a teenage binge drinker on their hands.
The best parenting style to combat heavy drinking is one that combines knowing where your teen spends his/her time with a trusting parental relationship. It's true that knowing your teens whereabouts can be difficult to determine every time she walks out the front door. But it shouldn't be, and that's exactly my point.
The Case for a Healthy Relationship With Your Teen:
Impossible as it seems sometimes, our task as parents is to get to know our children–even when their hormones are raging and they prefer slamming doors to opening them. There are no easy answers and even fewer opportunities to ask important questions. This is especially true when it comes to measuring your teens safety against the value of allowing them to be independent.
We can't always know what they are thinking, scheming, or secretly planning but the best parent-teen relationships establish trust by using a healthy dose of consistency and parental boundaries. Slipping a drink into your teen's hand as a means to placate an appetitie for alcohol or to control their drinking environment builds neither trust nor sets appropriate behavioral limits. Instead, it distorts the social boundaries of alcohol by making it "no big deal" to drink.
The truth is, sitting down to drink a latte' with your teen instead of sipping a Mojito can have a profound effect on how you communicate and respond to each other. You may discover things you never knew about your teen–and you'll have done it genuinely, without relying on alcohol to enhance your relationship.
For all of us there are never any guarantees that the way we parent our children will go as planned. It never does. But the one thing parents have that teens do not is the gift of experience and the wisdom to know when to use it.
It seems to me that how you choose to address the issue of alcohol consumption with your teen is a situation that calls for both.